AND Don't Forget!
There are events taking place hosted by Stockton Central Library and Middlesbrough Central Library all week!
Sunday 8th May 2022
2.00pm (Doors open 1.30pm)
£2
Court Room, Middlesbrough Town Hall
'Seen To Be Believed'
North East Film Archive Film celebrate HM Queen Elizabeth II Platinum Jubilee by taking an affectionate look at how the people of Yorkshire and the North East celebrated coronations, jubilees and royal visits through the decades.
Featuring rarely-seen material, the film draws inspiration from a famous remark by The Queen – "I have to be seen to be believed" – with footage made solely by local filmmakers, both amateur and professional.
Tuesday 10 May 2022
10.00am – 11.00am
Free
Virtual Talk hosted by Cleveland & Teesside LHS
The History of 148 High Street – Vicarage to Retail
148 High Street is currently part of the town's shopping scene. However, if you look up, you will see the residential character of the building that was once home to some of Stockton's prominent figures, including, in the 18th Century William Christopher, Shipbuilder and Captain of the Hudson's Bay Company.
This presentation, by Eleanor Blyth of the Townscape Heritage Project, provides a brief timeline of the address, including its acquisition by the Parish Church as the Vicarage.
Hear the story of the Reverend Henry Martin and his family who lived and worked there from the late 1800s until 1921, a story of public service and sacrifice in the First World War.
There will also be a brief overview of the Townscape Heritage Project.
To book your place visit:
https://www.eventbrite.co.uk/e/148-high-street-stockton-talk-by-townscape-heritage-10-may-2022-tickets-319033577017
Tuesday 10th May 2022
2.00pm
Virtual Talk hosted by Tuesday Talks
Free but donations welcome
Putting Ladies on a Pedestal – 100 Inspirational Teesside Ladies
Local historian Martin Peagam celebrates over 100 inspirational Teesside ladies, shining a light on the often-forgotten stories of local ladies who have made their mark.
Some of the ladies are well-known, some relatively unknown.
They achieved success as politicians, as writers, as singers, as artists, as actors, as sportspeople.
One tried to assassinate a monarch. One changed the world map.
Others tried, and succeeded, in changing laws.
All of them have stories that deserve to be heard.
To listen to this talk, visit
https://sotherans.wixsite.com/tuesday-talks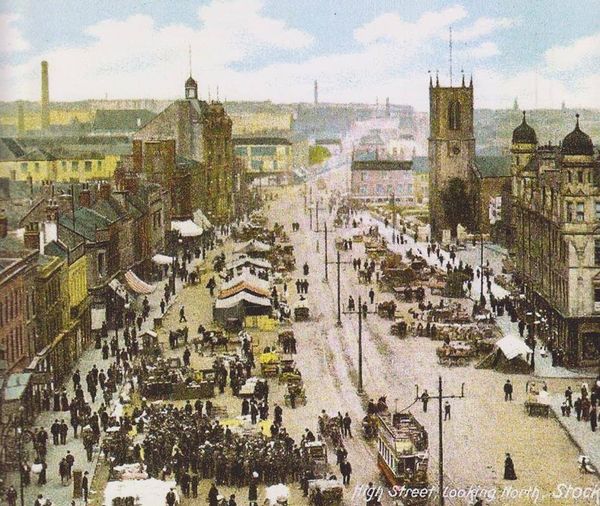 Thursday 12 May
9.30am – 11.30am
Free
Guided Walking Tour of Stockton's High Street
Join us on a guided walk around Stockton's High Street along with Teesside Archives and Stockton's Townscape Heritage.
Discover the history of its buildings and hear about the people who lived and worked here.
Learn about the work of the Townscape Heritage project at the Northern end of the High Street and on Norton Road. Hear about the recent excavation at Tennant Square and the plans for the site.
Meet us at Corrdells (next to the Globe) for a hot drink before the tour starts.
Booking is essential spaces are limited so please get in contact as soon as you can.
To book contact Eleanor Blyth via email eleanor.blyth@stockton.gov.uk or by phone on 01642524442.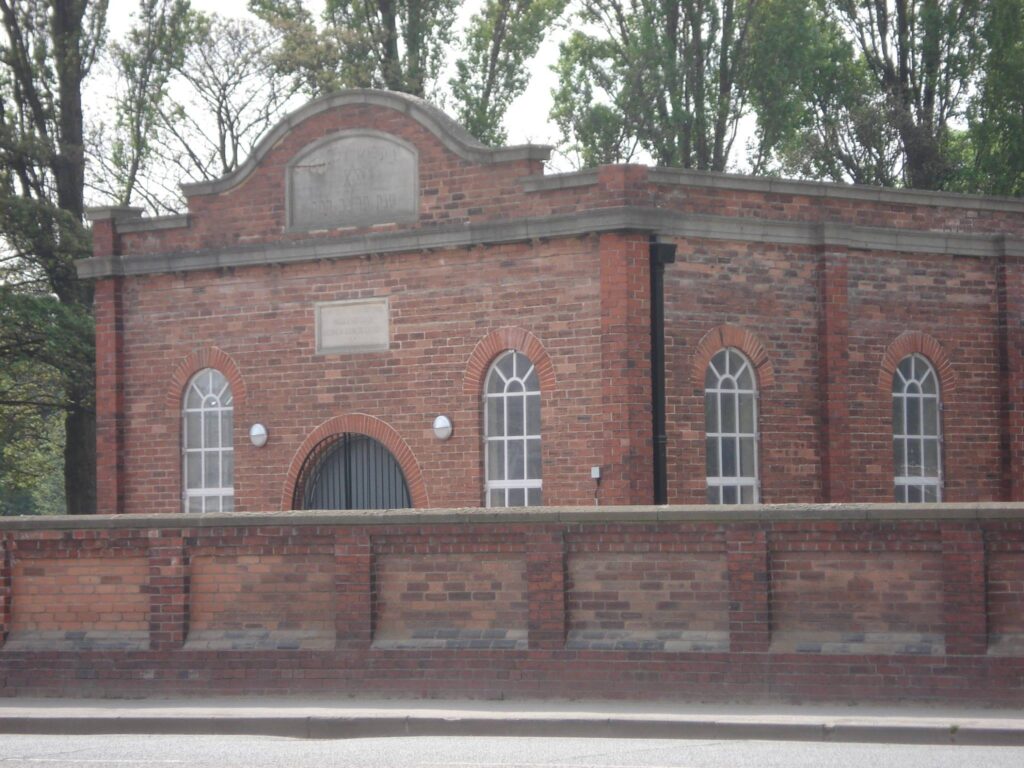 Thursday 12th May 2022
Hebrew Prayer House, Ayresome Green Lane, Linthorpe, Middlesbrough TS5 5DW
Free but donations welcome
Walk and Talk
"Education and Learning"
A walk and talk with local historian and member of the Friends of the Cemetery Ian Stubbs, looking at some of the famous and not so famous people associated with learning, education and culture that are buried in Linthorpe Cemetery.
Did you know that the man whose name was given to Kirby College rests in the cemetery as do the parents of Dorman Museum curator Frank Elgee?
The headteacher of Middlesbrough's first school and also staff and teachers from the Industrial School and the Linthorpe Board School 2 of whom had 53 years of service between them also reside here.
There are also a number of Sunday School staff, the Middlesbrough Girls High School, and councillors and aldermen who served on the Education Committee resting here too.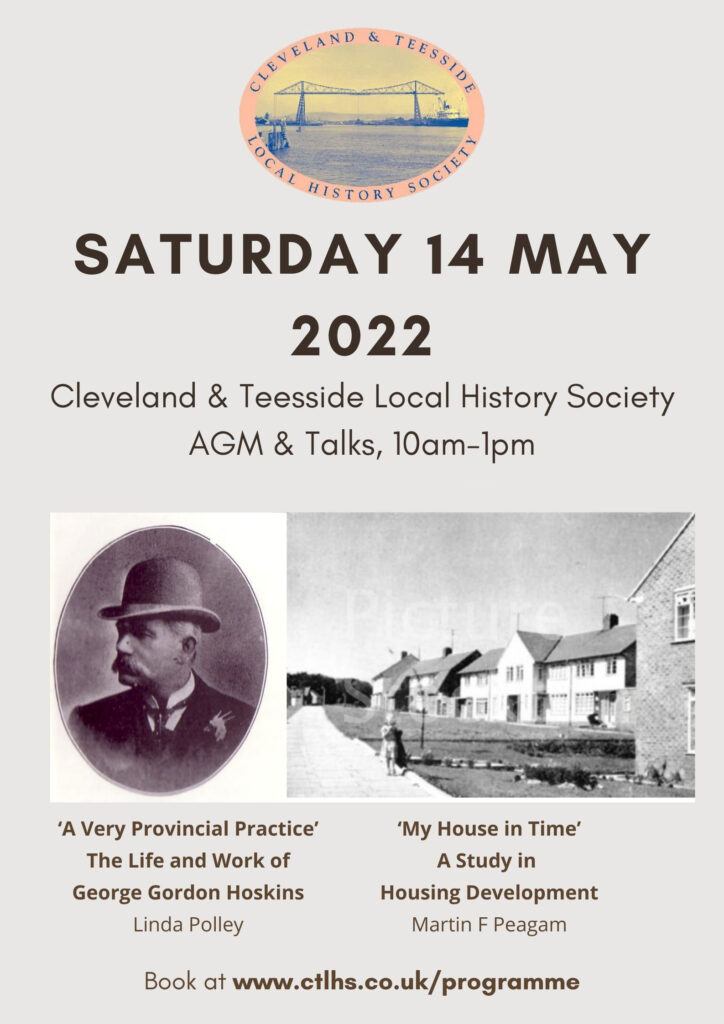 Saturday 14th May 2022
10.00am – 1.00pm
Cleveland & Teesside Local History Society
Annual General Meeting and Two Talks
The Cleveland & Teesside LHS has been researching, publishing articles, and delivering talks and walks for over fifty years.
Following the AGM of the Society, which will not take long, there will be two talks by Linda Polley and Martin Peagam.
The AGM will commence at 10.15am.
The two talks will take place 10.30am – 11.30am and 12.00noon – 1.00pm, with an interval for a comfort break.
'A Very Provincial Practice', by Linda Polley
Linda Polley explores the life and work of George Gordon Hoskins, a local architect responsible for many significant local buildings. Hoskins was a prolific Darlington-based Victorian architect, and was the winner of a competition to find a design for the Middlesbrough Town Hall which opened in 1889, a competition judged by Alfred Waterhouse.
'My House in Time', by Martin Peagam
Martin Peagam, explores how the house he lived in as a child reflected a seismic shift in housing provision that took place after the end of World War I, and explores how Lloyd George's declaration that the nation should provide 'homes fit for heroes' completely changed the landscape of Britain. Along the way, he learns how housing standards have changed and asks whether the vision of Lloyd George has been realised.
To register, visit Eventbrite using the following link:
https://ctlhs.us14.list-manage.com/track/click?u=888e193a4956261bd6d6b6d55&id=d05b702b73&e=35d8aae341